16JulY2006 Rush hoME froM ah MA HSE... went to bath then Cf called so it'S tiME for Me to go take Bus.. so had my Last toUcH up.. then went to bus-stOp to take bUs.. waited sO lonG, finalli camE (i wonder why nowaday 913 so Long..) & hP sing : Sarenheyao means i love you..(it's my sms Alert LA.. keke) then it'd cf sms me, she told she reach.. so i gotta rush up to the mrt cox i dun wan her wait so long.. then along the way to the station.. this survey guy came toward me.. while walking he ask -
survey guy: are u still schooling??
me : umm.. yah.. (after a few sec thinking i answer again!! see i miss sch so much!!!) me : no no..finish study le
survey guy: then working??
survey guy: looking for wat kind of job??
then i tell him sorry my frenz waiting for me above(mrt)..
in the process it was funni loi.. cox i wan to avoid him then i try to walk fast n walk other side of the pillar but he also veri fast n walk other side of pillar loi.. keke sori to the survey guy.. i realli was in a hurry..

then met up wif cf le then we headed to je (jurong east).. shan sms me tt she alwao juz went take bus.. so we reached ard the same time.. so indeed when we reached shan reached too.. so went to buy long john b4 we go into kboX.. todae so mani ppl.. when we go to counter still ask us wait.. then finalli our tuRn.. rOom 55.. the waitress shout so LOud.. she shout: 55 hao fang.. zhe bian qin.. think she train to shout so loud.. dunno at the end of the day her throat pain mah.. then we start choose songs.. while cf start to eat the tifbits.. think she hungry.. i think de first song we sing is 2moro de "shao le".. then during the few hr sing zhan zheng yue, cao ge, 2moro, shi kang jun, a-mei, jj, li sheng jie de songs etc.. funny de was in the opposite room came a couple.. suddenly the guy stand near de door , take de mic and began to sing n with some gresture.. a bit funni la.. feel like he going to go for a compeition.. we were naughty.. coz we saw him sing jj - zhi dui ni shuo.. as we also gt choose this song.. so when our turn came we sing extrA loudly.. dunno he hear mah.. HEe heE.. then ard 6.. shan go le.. so left me & cf.. so we choose a few.. then i sing all wubaI cox his & zhang zheng yue concert is cuming & I"M GOING & I GOING DE MOST EX De.. wooHOO.. MC HOtDog is going to be the GUest.. duNNo they will sing " wo ai tai mei, tai mei ai wo" keke.. maybe they change de tai mei to sing mei cox singapore mah.. hee hee... so we sing till 7 and dajie called and ask me whether wan go see Pirates of the Caribbean: Dead Man's Chest @ Beach Road cox my niece cant go to crowded places as we scare crowded places had a lot of germ (think u all noe why).. then i told dajie of coz i wanteD to watch.. so went to meet her at admirtly.. then we head down to city hall.. then walk out le can hear the music as there a big concert at big field (forget called what).. it'S goiNg shOw on tv.. gt jj, ah-du,tanya, some spore, hong kong, china singer.. so we when to beach road de cinema - shaw bought ticket.. as there still time went to starbuck have coffee n potatoe salad.. it's NicE
then after 2 n a half hr de show ended.. find de show funni n
they should also let olando be the lead actor loi..
he appear so mani time.. why everyone only like see johnny depp?? tell ME!!! then went take taxi home as already 12 plus..
17JulY2006 after watching suPerbanD tonight.. think Brods will be out.. cox they 2 persOn onli.. n todae J3 dance lei.. omg.. pray Hard... so when 1130pm came.. my mum n sis n me all seat in front of tv.. soul was first to be save.. then lucify then J3.. LEft MLB n BroDs.. think noe whu will be out le.. n the result is the same as i thot.. (why all revival back de all so powderful?? later wait top 2 is lucify n mlb loi.. juz guessing) haiz.. sian...
18JulY2006 went to watch Pirates of the Caribbean: Dead Man's Chest again.. this time go wif cf, wanchin they all.. but this time had a different ending.. todaY i stay till the end.. cox saw Adriano blog say there sumthing after de credit.. so we all waited.. n saw it.. haha.. funni la.. abt de doggy de!!! so when u'll go watch muz wait till the credit its over though de credits is super duber LONG!!! cant wait for Part 3!! wOnder de actreSs will change her heart n Love joHHny depp?? Let waIt!! then i went off first with cf cox cf was in a hurry..
19JUlY2006 todae had to pray in the morning.. cox todae is Guan Di Ye 's Birthday.. had to pray roasT Pig, duck, chicken, crab all this.. so i wake up ard 11 plus cox mama had to work and she ask me seat there see gt fly mah.. scare the go lay egg there n we will be sick after eating it.. so while looking after those food.. chatting wif shan.. she told me ****** still remember us.. hee so HaPPy.. then after that went to cwp meet shan as she cuming to my hse after lesson.. so we went walk ard causeway n she bought a cake for my mum.. (thanX shan) then popo & ah gong came too.. had a great feast on those food.. my favorite is duck n my mummy cook de soup n vege.. so full... after a while, i went bath le then bring shan downstair to take bus cox she need go home.. then after sending her off.. i went back to tidy up the place.. then dajie came home n i ask ed her wanna go ah ma hse as mum wanted to brind some reoasted pig for wai PO.. so dajie agree so we start to prepaRed.. while we were preparing, papa called mama whether she wan drink kopi. After reply, mum helped us asked papa can drive us over n papa say ok!!! so few minutes LAter we reached waipo hse.. then had a earli slp cox tml going to sentosa for sun-tan wif shaN!!!

20July2006 wakE uP at 8aM.. had a bath n went to buy drink n food for my breakfast.. then took mrt to tiong bahru Mrt station.. waiteD a while for sHan.. then we took mrt to harbour Front... n board on to de Sentosa shuttLe Bus.. Reach de entrance n pay $3 for the entrance fee n seated de yelloW LinE as we were heading to de Palawa Beach.. First time i was there to sun-tan(actualli is shan who are sun tanning.. i acc her.. so i was bascialli near de shade under a trEe).. so excited.. when we reached shan had everything ready .. b4 she lie down we had our breakfast.. then after that we put on suN BLock all thiS.. i was stubOrn, didnt wan to put SunBlock on faCE.. keke.. while tanning.. i spend my time reading magazine.. After 3 hours, we decided to go.. had a bath there n found out my face was damn red.. n my hand n hand gt 2 colour.. OMG!!! after bathing, can feel the pAIn on my face.. then we went to take yellow line buS.. when we reaching the stop.. we were gan qiong as the shuttle bus to Harbour Front mrt was there.. so when the yellow line bus stop, i was the First one to go down.. n then the MOST embrassing thing happEn.. like CInderelLa.. my slipper Drop.. the difference thing between cinderella n me is she gt ppl helpeD her pick up n i didnt have.. then when everyone walkeD away then i turn n go back to wear my sliPPer.. there was ah MOi n hS guy siah.. so maLU.. so we laugh all de way till we reach harboUr front.. this time i make sure my slipper doesnt drop.. then we went to de shOppINg malL therE n had our Lunch cuM dinneR.. had yong tou fU.. so Delicous.. then walked ard n we decided To go Marina Square.. then went we walk intO the enrancE, saw J3 on the escalatoR.. too bad nva take photo.. keke!!! then went to walk ard.. saw creative mp3 so nice.. then after tt we went to watch MortuNary.. the show enDing was Umm Hmm.. u all go see loi hoR.. keke but dun spEnd $9.50 on it.. go on weekdays.. After movie went meet my dajIe at jE n went hoME..
25July2006 AlsO stay at hOMe but receviEd stranGE call.. it'S Goes liKE THis.. at ard 3Plus.. my hp ring.. so i went to get it.. By de time i got it.. it;s SToP.. then it ring again den saw unFarmiliaR nuMBEr.. so didnt want to answer.. so decided to sms.. so i say
26JuLy2006 todae mum didnt need to work but she still had to pray cox it'S cHINEse 16th.. so mum forced me to wake up n accompany her go market at ard 11am..then bought some stuff for cooking.. then reached home le cook some mee for lunch.. whike eating i was watching HOusE of Wax on HBO.. so gross siah.. then went kitchen to help mum.. then finalli had a rest.. then online a while.. then dinner n watch tv..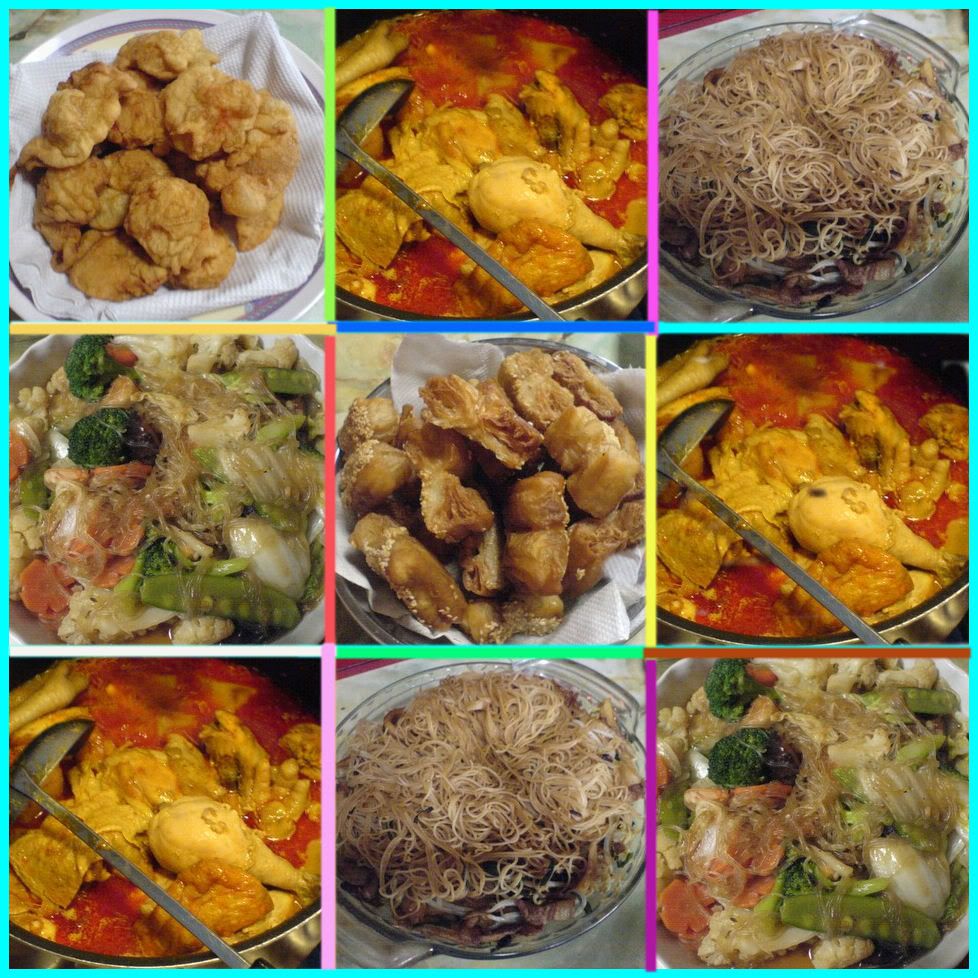 27July2006 Sun-tannINg @ Sentosa again but this tiME i take straight bUs go to the interchange.. when i reach wdl interchange i was looking where is 963.. then i saw it juz onfront of me.. then i juz went to queue up.. when i walk in i saw another signboard say 963E.. so i was panicked cox i dun know which to take as the 963 board say BUkit Panjang/ Harbour Front.. doEsn'T noe wat it mean.. so when 963 came.. i ask de uncle does it go to harBour Front n he nodded.. but on bus im still worried as dunno it will juz by-pass harbour front or go into de interchange.. so i stay awake de whole journey.. so finalli i reached and waied for shan a while.. then when reached there find a gd spot.. then start tanning.. then suddenly the hp ring!! it'S de weird number again.. but veri fast it put down... so i ignored loi.. then ard 230 when to bath.. go to the outside one but it was crowded.. so decided to walk in as there is another one newar 7-11.. as we lazy walk in.. we seat train inside.. then he toilet there was so big... then i walk into the bath room.. n i say where the "thing tt spray out water" (dunno wat it call) then i saw it aboce.. so big siah.. till i dare not bath.. lucki there another side where it;s smaller de but still a bit scary.. so i faster bath n get out off there as it also veri cold as the ceiling quote high n there fan above us.. then we went to seat the train again.. then waited for the yellow LinE.. SO manI ppl.. then ard 5pm reach harbour front.. then went to eat fish porriage at the hawker there then take 963 back.. reach outside nuh de bus was already crowded but think behind still gt space but some like dun wan move in so the driver let ppl tap in front n go by de back door.. wat a gd driver!!! then finalli i reach causeway @7pM.. deNise n cf were alrady therE so i went to meet them.. after tt went to uncle tibits to buy chips for the movie later.. chin came n we headed to de cinema as it's Starting!! we'Re seeing THE LAKE HOUSE!!! the ending was unexpected ocx b4 tt gt ppl tell me it'S a bad ending.. it quite nice wif a gd endiNG.. then we went acade awhile then denise n wc started playing a game.. then i n cf stood there n watched.. then in the midst of those loud music.. i heard sum1 scolding then i looked behind.. a mum is scolding her son.. suDDenly she start to beat him n push him to de floor.. she push so hard siah.. n the boy was so thin.. n the MOST furious thinG is de Father juz stand there watch.. didnt helped his son up.. then de mum juz wake out n they follow.. the son also follow while crying.. then reached outside de acade d emum push him & beat him again.. so hard man.. n de father didnt care.. why there no security man there.. at least he can stop de mum from doing tt.. poor child.. even he do sumthing wrong no need push so hard.. so small should nt do sumthing seriouly wrong mah.. Haiz.. then after 1 game, we went off... den i & denise dun feel like going home.. suggested a few place then we decided to go Ang Mo Kio Kbox.. easier for cf to go home too.. we went there by wanchin pickup.. we sang quite a number a song.. even Old MacDonald had a farm.. then our last song is 25minutes.. then we went off.. at frst wanted to eat Mac at Ang Mo Kio but cf say it realli late le (it's 1aM) and she had work next day so wed rove her home and say we go Admirtly to eat Mac.. after sending her off.. we are on the way to admirtly.. BUt Denise suddenly think of going Jalan Keyu eat roti Prata.. so we call chin as we were seating behind de pickup.. and she said ok.. then we reached there, order le prata, teh tarik & roti JOhn.. it was nice... while eating had some chat abt secondary schools.. finishing our food, we went to the back of wanchin pickup to chat some more.. tok abt our Favorite cher, Most memorable moMent etc.. till 430am.. our butt start to becum ma pi.. then we decided to head back to our hOME.. i was first to be drop off as denise live near chin.. then had a bath.. hang clothe.. by the time i reach my comfortable bed was already 6aM..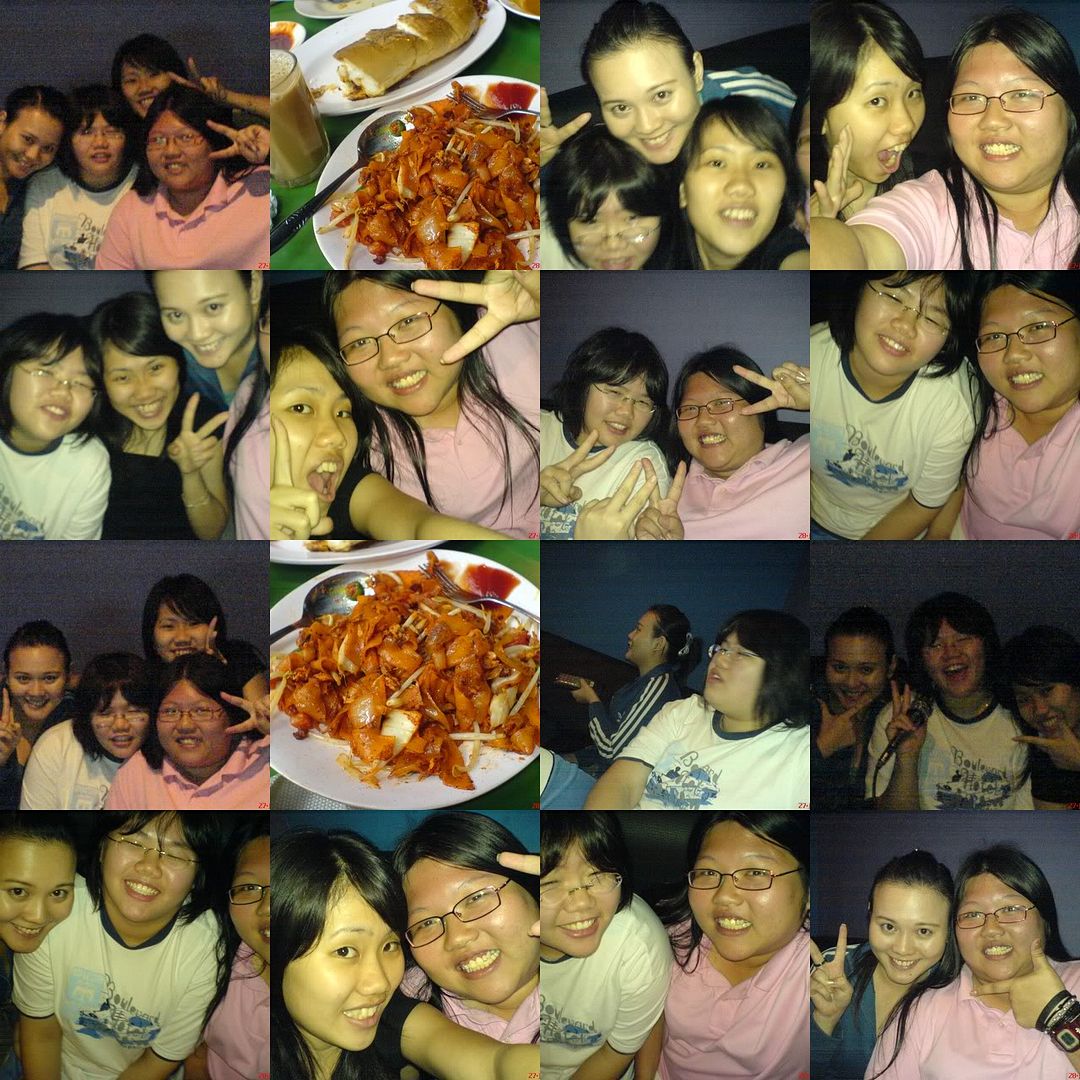 28JuLy2006 Sleep whole daY till 6PLus n heard sum1 calling at my door.. it was papa.. He ask me go to de lift there take the window thing.. (those slider which prevent u from falling de) cox ppl have change new one n throw at the lift there.. papa ask me take as He said can sell money... it made of aluminiuM... then we had to keep inside de hse cox scare other steal.. then at night went to waiPo hse stay again...
29JulY2006 went home at ard 12plus.. jiu jiu drive me home.. was waiting for the aircon man cum.. waited till 4 pLus then he came.. he juz look look see see n didnt do anithing.. then my mei asked him sumthing which he couldnt answer then he said he will feedback to his boss.. b4 he gone he juz say he tell his boss also that we need to change new aircon cox if fix was troublesome.. then dinner we had KFC.. the ppl sent wrong thing again.. so i saw de delivery man went to the block inside.. so mei n i rush to tell him.. lucki he was still there.. so he take back n back in 30mon with de correct mail.. then 11plus went waipo hse again cox i wanted to see my shOw: Memories of Bali.. then went to slept cox i was tired
30July2006 waken up a few time but went back to slp everytime i woke up.. so finalli at 1pm, my jie woke me up as she say wanted to go Botanic Garden to see some concert.. so had a bath n went home to change.. ard ard 3plus, everyoNe wa ready n we take taxi Down.. as it's Onli 3Plus.. we walk ard as de concert start only @ 5Pm.. then took some pictures.. then when 5pM is reachinf went to bought hotdogs bun n drink so that we can enjoy when seating down.. then we found a spot n we took out the mattress we bring n seated down.. after a while, a girl bent down n say she was Lian He Zao Bao reporter and ask my sis dew question!! wonder if tml newspaper have my sis intervew.. then xiao yi came with prata.. gt mutton.. veri nice.. the host is adrian pAng.. at ard 7pluS de whole thing ended.. we walked till veri veri veri far to get a taxi.. (we thot outside will have alot.. but in the end we call for one) then went to waipo hse for dinner n went home..