,♥
today was so suay that my heels was broken.. lucki i was on the way to mY shaN yI hse.. then I only need to walk a few distance to her hse!!! Reaching her hsE, went to bath & went out agAin as we will be fetching dajie at Parkway Parade shOpping centre.. Then i brought mY poKemOn DS game.. YahOO!!!! then we went to fetch David Su sU... after that headed homE!!! after a while went to slEpt...
,♥
todaE was suCh a tiring Day!!! had gone to so Mani Places!!! Let'S stArt from de Morning.. wake up at 8plUs as i'M suPpoSe to Meet Janice (David Su sU's Ex-SecretaRy) at office as we r going through wHat i shOulD sCan!!! then my hp ring and it was JanIce whu sMs me telling me nt to go back to office as she cannOt make it.. so i wanTed to go tell Shan Yi as she fetching me go.. but nva see anione in the living roOm.. so i Went baCk to slP.. then at 9aM.. shan Yi knOck on de Door asking me " am I ok le?? " Then i open de door n tell her i no need go le den i went back to slp. At ard 1pLus in the afternoOn.. mY jie said David su Su asked me to go company with hiM.. but i couldnt as i meeting Jia n Cf!!! so I told him n he say ok loi.. mOndae den go!!! As i'M going out soon.. so i took de free ride out wif shaN Yi they all!! Reaching David Su sU's office.. he asked me followed n do something n after awhile i left.. Reaching Bugis.. i called cf & xj so Mani times n they didnt pick up.. so i went to coLd storage to walk arOunD.. feeling so fed uP but still keep dialing.. finalli after 15 minutes xj pick uP!!! She said so noisy cant heaR.. Lucky they went toilet.. if nt i dunNo i muz wait till when theN they wilL pick up!!! so met uP with them & walk ard in Bugis Junction to lOok for wei Chin birthdaE present as we r going to her hsE as she celebrating.. then we went to Bugis Village to look for more chOices but b4 tt we went to BK to makan as i haben eat!!! bY de timE we finished, it already 5plUs.. so i could go to shop summOre as i had to go NanA birthdae first.. so headed to Bukit batok to meet Pres Mdm, Mali & Angela!!! then went to take taxi n actualli it was quite near!!!! after asking ard.. we found nana.. wIShEd her happI Birthdae den makan!!! ard 8.. we bId gd-Bye to nana as i had to go for weiChin birthdae le.. then rush down to wdl inter-change as wanchin is waiting for me there.. then we played till 11 b4 going hOme.. But!!! i not going hOMe.. im going to shAn Yi hSe as daJie is still there.. so i took 168 to bedoK & shanYi went there to fetch mE.. so finallI im Here Writing.. dosing off soOn.. wilL uPload pictuRe soOn.. zZzzzz...................
,♥
todae went to David Su sU's office @ aroUnd 2Plus as i'lL Be Helping him do soMe scanning!!! aS DaviD su Su had meeting, so I waited at his sEcretary place.. wHile waiting, some of de staff there came and ask whu am I looking for?? sO i told them that David su Su ask me to Wait herE.. sO finalli ard 3Plus.. his secretaRy, TherEsa came and spoke to me tt David Su Su asked her to show me how to scan.. so i followed her.. then sHE introdUced me to Mike too.. one of the manaGer!!! theN after that show me how to do submission.. kinda confuse de!!! then at ard 6.30pM went off as everything is ok!!! went to met wif daJie then we went Plaza Sing to but 2 Shirts then we headed to shAn Yi hSe!!! had our dinner & slp cox tml i still need to go to de office to scan stuff!!!!
PLEASE TAKE CARE OF YOUR EAR!!!,♥
Sat go Mount ElizaBeth HospitaL agaiN as I had an appointment.. This time we were earlier!!!
So in a few min we went in le.. as usual, the doC use the long long thing to capture inside my ear... could see tt my ear had recover as there no more yellowish or blackish thing.. then de doctor say there some watery thing so he help me suck out using the equipment..
After that he congulated me said that i no need to cum back le.. as de hOLe in the ear already recoverEd... then i ask him why sometime still feel there sumthing in my ear?? He told mE cox maybe it juz grow back n im nOt used to it.. sO neEd timE to adapt!!! so we thank hiM..
So PeopLe, PLEASE TAKE CARE OF YOUR EAR!!! Cox if u had wat i been through, it like living in heLL!!!! After that went Mos Burger to had breakfast wif Mum!! at ard 12 plus, take mrT wif mummy n I alighted @aMK to meet ah JIa..
We were going
sim lim cox she wanted to changed a printer ink. But couldn't change when we reached de shop.. cox the person say only Epson can change for her and she had to go down Epson service centre to change.. as they nothing could be done so we went walking ard and went to a laptop shop as xj feel like buying..then this cute guy approach us and ask if he can help but told him we look ard first.. then I tell jia cannot buy this cox of certain reason then de cute boy say sumthing but I couldnt hear then I tell him nthing then I say something again he say wat I say?? Then I tell him nothing ar.. then we went out cox too Paiseh as I'm talking bad abt certain brand!!! HeehEe..
Then after walking ard, decided to go orchard.. when we reached, we headed to Borders as I wished to use de voucher tt ah yi gave me when christmaS!!! On the way there, we saw Chen HonG yu!!!! De channel U star.. handsome DaOOoo!!! Though I brought my camera but didn't get de chance to take photo wif him.. -__- then walked ard border, seeing wat could I buy.. then again saw a idol.. PaUL TwoHilL!!! Same as tv.. the hair infront.. Hee HeE *-*!!! After that went to kino as ah jia was finding a textbook.. looking up n down.. finalli she found de book she wants.. and it'S froM MacGraw hIlL (the previous company I work in). Surprising to see quite a lot of book from tt company!!! Then when we were heading to de cashier counter, we saw one of de member from J3 (the one always wear cap de)!! Ah jia n I think todae is our STAR day!!! 3stars in a dae.. keke ~~ then we shop along all the way to Plaza SIngapura..
B
y the time we reached there, I almost faint as my leg couldn't take anymore.. so we went makaN @ ajIshan (where we finalli can Sit) after saying hi to WeiChin @ SasA!!! After having a full dinner, we continue to shop.. went Mark & sPencEr.. wHile browsing, took some clothes to try.. asked Jia to join me too.. after trying some.. I had a piece that I like veri much.. but I couldn't buY cox it'S price is $89!!!! 0_0 Sian Loi.. I Like It sO much.. then went back to Sasa to bid good-bYe to weiChin but she asked us wait for her.. as there thing tt I nva shop n ah jIa agree so we stay.. till 10plus then we headed to Mrt station!!!
Mum & Me in ReFlecTion


tOp roW, 2Nd Pic is the sHirt i Wan!!!!
,♥
Met uP wif sHan at takasHImaYa.. then went makan @ seoul garden!!! FroM 2 PluS to 4 bah.. though we stay inside sO lOng buT we didn't ate Much.. Just take on Plate of different kind of chicken.. then few plates of vege!!! Then we went kinokuniya to look around.. then at 5.45pM we leave de place as we were going to Causeway Point to see movie – The Host!!! On the way, cf sms me tt she going to be late a while so asked me to buy ticket first.. then I called wanchin to ask whether she want to see mah..but she say nO.. sO I continue to resT on mY seat.. few minutes later, chin called n said she wanna see.. so I asked her faster come out and she say ok!!! bY the time I reached causeway, it's 6plus le.. so shan n I hurried to de cinema n bought de ticket.. quite in the middle bah.. as all of them haben reach, shan n I went Cold storage to buy some tibits.. then cf came, wanchin' mum n sis came.. lastly is wanchin.. went in n found out de seat was kinda near.. keke 0_0 afTer 2hr, it finished.. found de show is nice but I Hate de enDing.. the daughter preserve soOO Long but in The end…. haiZ... then went home straight..
,♥
For the Past 1months had been working, slacking, going out tt why havent been updating my blog.. so tired everytime i cum back.. and my ears had not been recovering yet.. ok let go back a few days back n see wat i had done!!!
on Aug2, met up wif chin n deNiSe as we'Re goiNg Recruit Express to LooK for job.. walking toward Tower A of nGee Ann city when we reach.. went we reach de agency, they give us de form to fill up n our Agent is called Jane, friendly & pRettY lady!!! So we went off after she had explained everything to us. Then we headed to POSB as we wanted to change to de new "GO" card.. while waiting for the staff to help me make.. my hp ring n it was Jane.. she tolD me she had a temp work for us & no need interview... then i turn n looked for Denise to see whether she wan but she was gone.. So i told Jane i'lL called back soOn.. then keep calling Denise but she nva pick up.. so when chin n me finishEd making de Card we went outside n called Denise again.. Lucky this time she listen.. she say she in the POSb.. but in a corner cox she speaking to one of de ppl there cox de staff there thot she interested in de plan for saving money as she saw Denise taking de brochure... so i faster ask denise want de job mah n she say okie so i called back Jane n gave her de anSwer!!! then after tt we went ikEa.. to walk ard.. brought 2 made ice cube de n Denise brought a frame.. when on the way home, dajie called n ask me to met her as she need de Metro card.. after meeting up we jie, we all went causeway n we went neoprint while dajie go shop.. after taking photo, i go find dajie!!! she brought one top n we headed hoME!!!
NExt day, 3Aug... went down to taka again to sign de contract.. the comapny is called Mac Graw Hill.. might see de symbol at ur textbook!!!! then went to try some clothe for working.. when we finished shopping.. we headed to causeway point as we wanted to wash our Neoprint to 3R sizE.. while waiting for the photo to develope, i went to sEe Doc @ raFfLes Medical as i canT tahaN de Pain aNimORe!!! then de doc give me ear droP, antibiotic & paiN kilLer!!! total is $45.. damn ex!!! had no choIce.. then went to take pic n went hoMe.. Then i went to slp earli tonite as tml is working.. sob sob..
4Aug.. wake up at six.. had beakfast as i need to eat medicine as my ear is still in paIn.. then met up wif denIse at wDl mrT.. headed to bOOn Lay as first day we hEad to go coMpany ourselVes.. reaching Boon Lay, we went to take taxi as we dunno de place le.. then exactly at 830aM we waited there.. went to de reception to wait for de Incharge to brief Us.. den she came and say had to wait for the rest of the temp worker too.. waited till 930 de last collegue came.. she came late as she had lost her way!!! then de Incharge ask de boss to come and talk to us what we were suppose to do.. then he bring us to our working place.. it'S a conference room.. so Stress!!! then his assistance, roMan teach us what shld we do fir the next 2weeks.. then they gave us each a department to do.. i'M incharge of CSOM!!! then i see so mani thing inside compare to Denise they all.. Lucki my leader is so FriendlY.. heR naME is Jacklyn!! she even ask me to seat beside her so tt she couLd teach ME.. n after tt i realised i wOulD be Doing different thing.. after she teach, i finalli understand n do till 459pM.. den we went down to take coMpany Bus n to let uncLe see our face so that Mondae He could drive Us hOME.. then i went home aloNe went reached cck as Denise Met wif her dar!!! by de time i reach home.. i was in Pain.. so i lye on sofa n falled a slp.. mama & papa came back.. Mum ask stilll paiN, i told her yes!!! i told her de pain KilleR no use so she asked me to went back to see de doc.. so i agreed cox it realli unbearable.. like needle pocking on u so hard!!! reaching de clinic, asked for the same doctor but he wasnt there.. so no choice muz see other doc.. then i went in n told de doc tt de pain killer no use. den he see my ear again.. he say did i use cotton butt n i say no.. then he ask again... doubting me siah.. then he say might be fungus.. at first he wanted to refer me to hospital to wah my ear but he gave me stronger painkiller for me first. if tml still pain then go polyclinic n ask them to write letter to hospital.. this time it cost $21.. then when to buy mineraL waTer to eat medicine.. after a while, it's betteR. then went Home resT!!!
5aug & 6aug.. went out a while.. then stay at homE as no Mood though my ear no Pain le but it's Block!!!
7augG.. continuE to do my stuff at woRk.. then went hoME
8auG... went work as usual.. then fter work went to denise hse as we were going to see fiRework after tt.. then met up wif chin n jia.. den when we reached city hall mrT, it was crowded with peoPle loithen finalli find a spot but was blocked by tree.. and it was damn hot too.. but had to bear with it.. then after 12min we take some pic before going as alot of ppl is exiting.. by the time we want to leave, the crowd was still moving.. but no choice we had to join the crowd... then went to marina square as Denise & I haben ate dinner.. we walk ard marina square.. not Even a single place for us to makan.. so we decided to go back Civic centre to eat Mac... then after tt went home and slpt...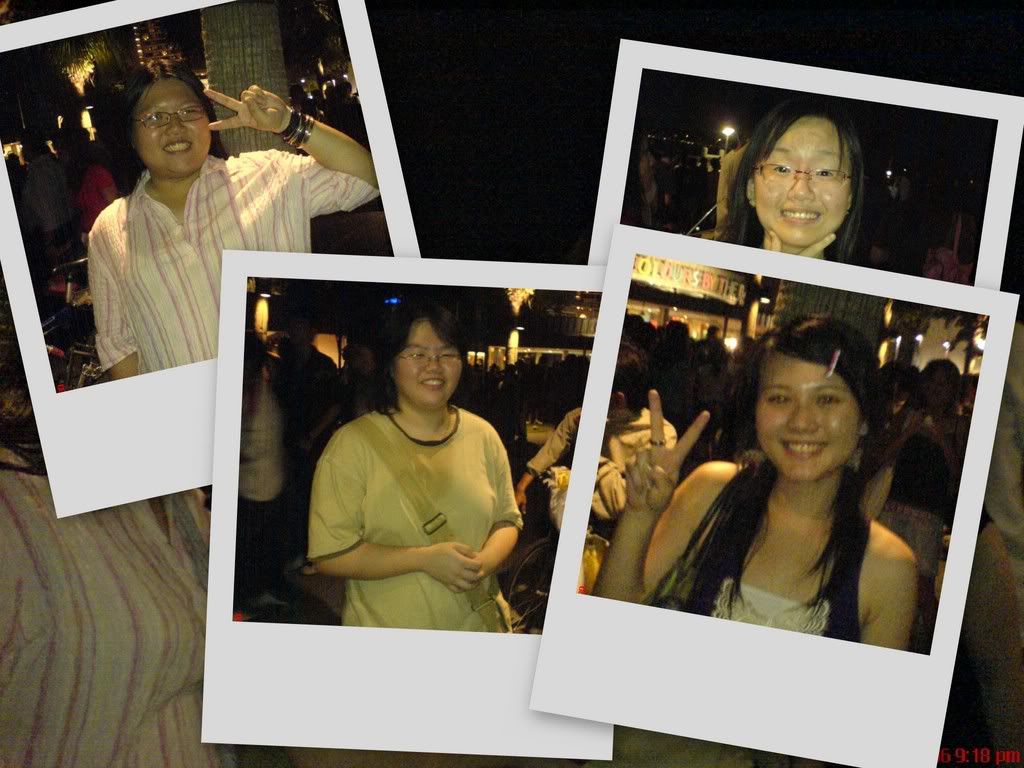 InDiViDuaL PosT !!!!! SaY ChEeSE~~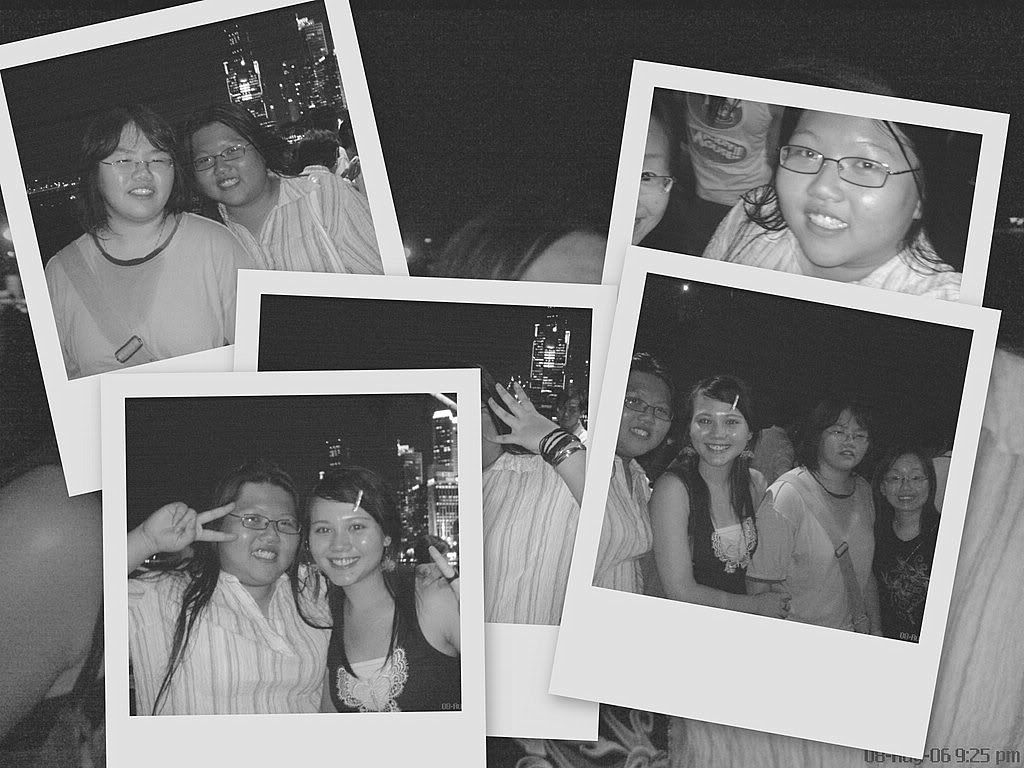 AfteR dE FirEwOrk!!! It'S DamN HoT!!!!
TODAY is NationAL Day!!! had to stay home as mama is PrayIng todae!!! after having breakfast, helped mum with soMe stuff.. by the time we started to pray , it'S almost six n de national parade had started.. watched some n went back to room to chat.. den slp ard 11plus cox tml

10AuG, 11AuG.. as usual went to work n went back homE!!!
12AuG went to PS wif jia to see whether there'S clothe to buy.. while trying on Some toPs chin called.. asked Me whether wanna accompany her buy shoes at causeway poinT.. then i agreed.. then i continue to try on a few tops and decided to buy 2. thEn went to take mRt.. on the way, i sms DeniSe to see whther she wan tag alone so we 4 can take neoPrint.. she too agRee!!! saw ThomAs along the way too... when we reached cwp, jIa & Me went yoshinoyA as they habEn reached.. when we were finishing.. they came and so we headed to converse shOp as wanchin wanted to buy shoe from there.. den went to take NeopriNt.. had a wondeful time designing.. as usual, I and Denise dun feel going homE early so we suggest go sumwhere to have a drink n chat!!! but wanchin say muz havE Air-cOn.. so we narroW our suggesTion to Mac Donald.. so we go jia neighbourhoOd dE!!! Had a great time dere.. we even decided to make a Jersey for the 5 of us.. n we will thiNk of a name for our Group.. went home online.. chatting again.. Denise told me wanchin say we could called ourselves "Cow5" as we all are coWs.. this made me think of how Lucify had their name.. so i Created Cowcify this naME n we all AgreeD..
13Aug.. went cwp again as Denise & i wanted to buy bread cox we didnt want to eat de food at de comPany and we hope can finished the work during our lunch time.. after that we went pasa malam to shop around.. I bought a Mickey notepad & a set of Mickey magnets.. sO KAWAII!!! then saw Nana wif Royston.. juz say hi n bye!! hee.. then went home after tt
14Aug.. trying to finish all the work asap.. but couldnt which mean had to come back tml..

15Aug is the last dae in Macc Graw Hill as we finished our job.. had to thank Denise for helping me if not i think i had to come back alone... Bidding goodbye to them in the last min as I was trying to do my work in perfect.. then board de bus n I couldnt get to slept as tml no need to work le.. then went to walk ard CCK den went home.. see tv till late night again..
16Aug met up wif shan, cf, Denise & Xf cox shan n cf wan find job whereas denise & me went to hand up our time sheets..then jane told me tt a job which is in amk for me.. at first was in a delimma whether wanna try then decided to try since onli interview.. then went to ate ahjishan wif shan n cf.. then bid gdbyEs to shan.. went to rp wif cf as she getting her cert.. then after that went to Raffles medical as cf was having a bit flu..then we had nothing to do n we went to cathay to see is there any show for us to see.. n we decided to see American Haunting.. to me this show was sOooOOoo coNfuse.. but it'S scary.. those whu had see can please expLain to ME???
17Aug went to see Doc Seow as my ear still block and there seem to have yellowish n blackish thing inside.. Mum asked me better go see.. so mum accompany to de clinic.. the doc suddenly put a cloth on my shoulder then say wan to do sumthing.. then i was kinda scare that i didnt turn n see wat happening behind.. then de doc say she going to wash my ear.. then he put sumthing in my ear.. then suddenly like waterfall had just been released into my Ear.. then doc do it again.. after tt doc could see my ear red red and say its still infected.. so he gave me antibiotic to eat & say monday go back see him.. while waiting for de medicine.. i ask mum how de doc washed my ear.. she say use a veri veri big springe filled wif water n push all the water into my ear.. first time onli 2 thing cum out.. yellow de.. then 2nd time alot of yellowish cum blackish thing cum out.. tolo bad i nva saw it.. after taking medicine went to eat lunch with Papa.. had mix vege with rice..then after tt went to ntuc wif Denise to buy sOme stuff for tmL steamBoat.. theN went Party WoRld.... during nite time, i felt my ear was kinda pain le.. so i went to slp earli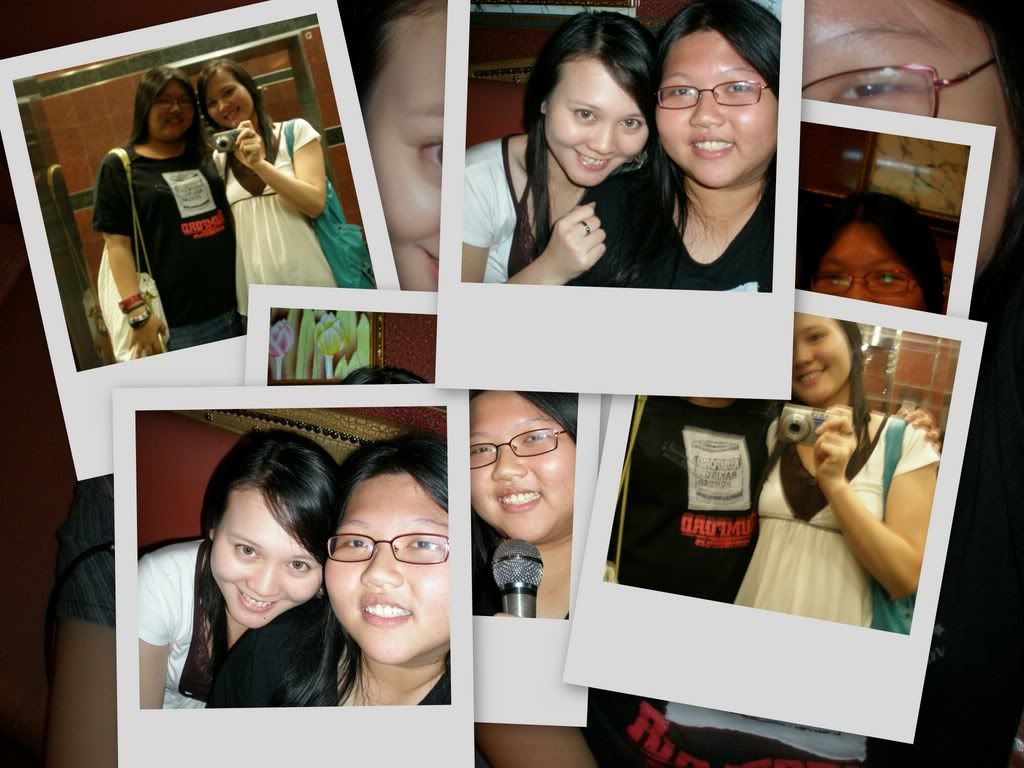 WiF mY deaResT DenISe @ PartyWorlD... Had a GreaT TimE~~
18Aug was a happi dae cum painful Day.. todae coWcifY are cuming to my hse for steamBoat.. prepared all de stuff like cleaning de house, wash, cut all the food and moving all the plant cox we will be having steamboat cum bbq outside.. while preparing all those stuff, the pain in my ear was unbearable so i went to eat de pain killer.. lucki after a while the pain was stopped.. so continue to do my studd.. by 7 plus all of them reached n we started to bring all food out n strated cooking.. in the progress it was fun.. after a while the pain came back again n i had onli de last pain killer.. but i couldnt stand it so i ate the last one.. so we continue the fun in my room.. playing uNO.. after that had a lot of photo taking.. as xj tml still had to work so we sent her home.. after which we went to Denise hse as she wan to get sumthing.. then proceed to wanchin hse as she wanted to bath.. when we were moving back to my hse for another madNess moMent.. we went to Mac to had a drink.. then went 7-11 cox i had found my long lodt lychee sweet.. the cashier some sort look like Elvin Ng.. HandsomE ohh.. keke.. then when we reached my house.. chin went to sleep while we seaching for vcd.. then when we wanted to play.. i dunno why it cant be played so i let denise n cf see de 183 variety show.. as for me i went to rest as my ear began to pain again N worst is i dun have any more pain killer & i felt like vomitting.. ard 5plus going to 6, they wake wanchin up as cf can take de first train home le.. So after saying gdbye.. i went back to slept...

LooK LikE dE ThOuSanD HanDs ShOW Hor.. HahA!!!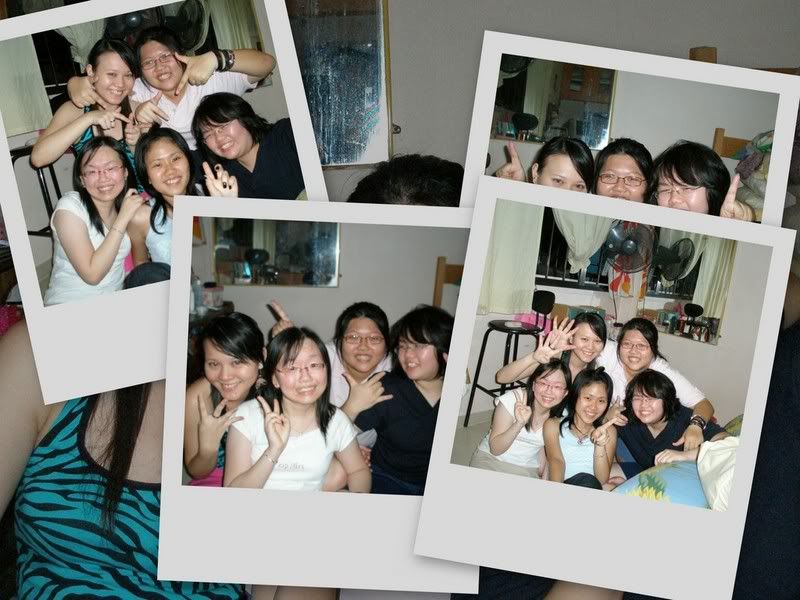 1, 2, 3, 4, 5... CowCifY!!!!!
19Aung, i cant tahan anymore so mum went to clinic with me again.. doc give me pain killer n ask me monday remember go see him.. den i went home n ate de pain killer but still pain.. rest a while n went sheng xiong wif mummy as wai po they all cuming to eat steamboat again..after buying stuff n bathing i went to rest.. n slept till 7plus.. after that went to makan.. then went to rest...
20Aug went to KKHospItal as todae Jonathan was having his birthday.. as he still need to be separated from us, we sing birthday song outside de dOor when his dad n frenz reached.. after that xiao yi brought us to Goodwood Park Hotel to eat durian buffet.. the durian mouse was damn nice.. but i mostly eat de chicking wing as the thing there are quite limited.. then we went to walk around.. brought a mickey moUse hp Strap.. then xiao yi brought a mariO soft toy for jonathan.. then went to Border.. wanted to buy some book but lazy to look... then xiao yi brought another book for jonathan.. so we headed to KK Hospital again.. after tt went HomE...
21Aug & 22Aug i thiNk i stay At hOME to rot.. Hee HEe!!!
23Aug, i woke up in then morning as i accompany Denise to interview.. along de way i keep dun feel like going my interview later.. dunno why i felt like i wun get de job.. but decided to try since im oUt... Denise was late a bit as we waited de Taxi so long loi.. after tt we went back to amk Station.. as it was still earli so we went to buy Mr. Bean as i need to eat my medicine.. then we headed to my interview place.. same procedure.. fill up form n wait for the person.. he didnt really ask me any question as i think he didnt want to employ me.. so after tt i bid gdbyes to Denise as im going to orchard to meet Shan.. then we went makan. den ard 3plus met up Denise n xf again as she & Shan need to go Recruit express.. then after tt we went watched movie at Cine - Snake on pLane.. kinda er xin.. all de snake.. look scary!!! I HATE SNAKE!!! den went home after tt
24Aug went out wif shan as she was going interview.. met up at redhill den we hire taxi to go to tt pLace.. after tt we went to Jurong east as we wanted to sing.. Sing from 2 to 7Pm den went tiong bahru for dinner..after that met up wif jia and go home together..n 1 gooD News.. I got a joB le.. Felt sO lUckI!!!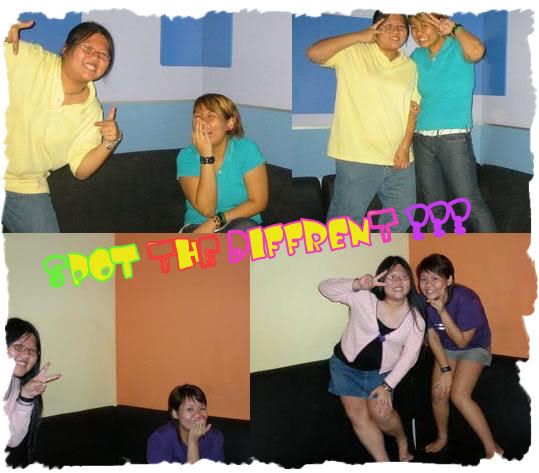 25Aug stay at home..
26Aug went to Mount Elizabeth for check up for my ear.. as i was late, i Had to wait a while b4 Dr Goh can see me.. after ard 15min.. we went in. then Doc again used the long long thing to take picture inside my ear.. show me the white white thing is de hole but is recovering.. then next he use de another equipment to vacumn my ear.. then he say 2weeks then go back see him again.. then went to Paragon.. walk ard n i BUy a Jacket n i successfully ask mum buY a new toP too.. then met up wif Da Jie and we went to ate Spagetti.. feel kinda angry cox of their attitude.. i Order sumthing then went my food came i was confuse whether it mine cox i order spagetti but it came spagetti roll wif chicken inside.. so we ask de waiter to double with us and he say yes.. so i ate it.. suddenly one of de waiter came n bring us another plate of spagetti.. but we didnt order anymore.. so actually my food wasnt de one im eating.. and other waiter all keep looking.. dunno toking abt wat.. Den when we finished n they ask for bill, my sis double check if they help us change our item on de receipt.. then de waiter dunno so he ask his manager cum.. finalli we are able to pay.. n they didnt say sorry even once.. think we wun go agaIn.. then went wisma walked ard and said bye to mum n sis as i'M meeting jia n feng to buy Denise Present as tonite she celebrating.. then saw a adidas bag quite nice so we bought it.. after tt went to far east to walk ard.. ard 7 plus met up wif chin at civic n we went ntuc buy water bomb.. n finalli headed to DEnise bbQ place.. then we went to makan.. DeniSe kept giving us lot of food so that we cant sabo her... n indeed we kinda fail la cox de water bomb cant be filled..so we had to use pail.. de worst thing is Denise also have.. de result of the battle was we all are wet. But luckilly the wettest is de Birthdae Gal.. Hero was cf cox she was de one whu made Denise so Wet..Den we pack up everything n prepared to go home... then Denise went back wif us.. cHin drove me to my hse first to take clothe as im going ah ms hse.. den next was cf hse.. after tt went to fetch xf as she going to Denise hse.. tc n cheng tat was there too.. we had a bumpy ride.. all oUr Butt waS PaiN de lOi.. "Nice" Job CHin!!! then next was jia den me.. saying gdbyes, i went up to my ah ma hse.. the door was lock n lucki my hp still have a bit of battery.. so i called da jie n lucki she was able to wake up if nt i think i gt to take taxi home.. den went to bath n chatted..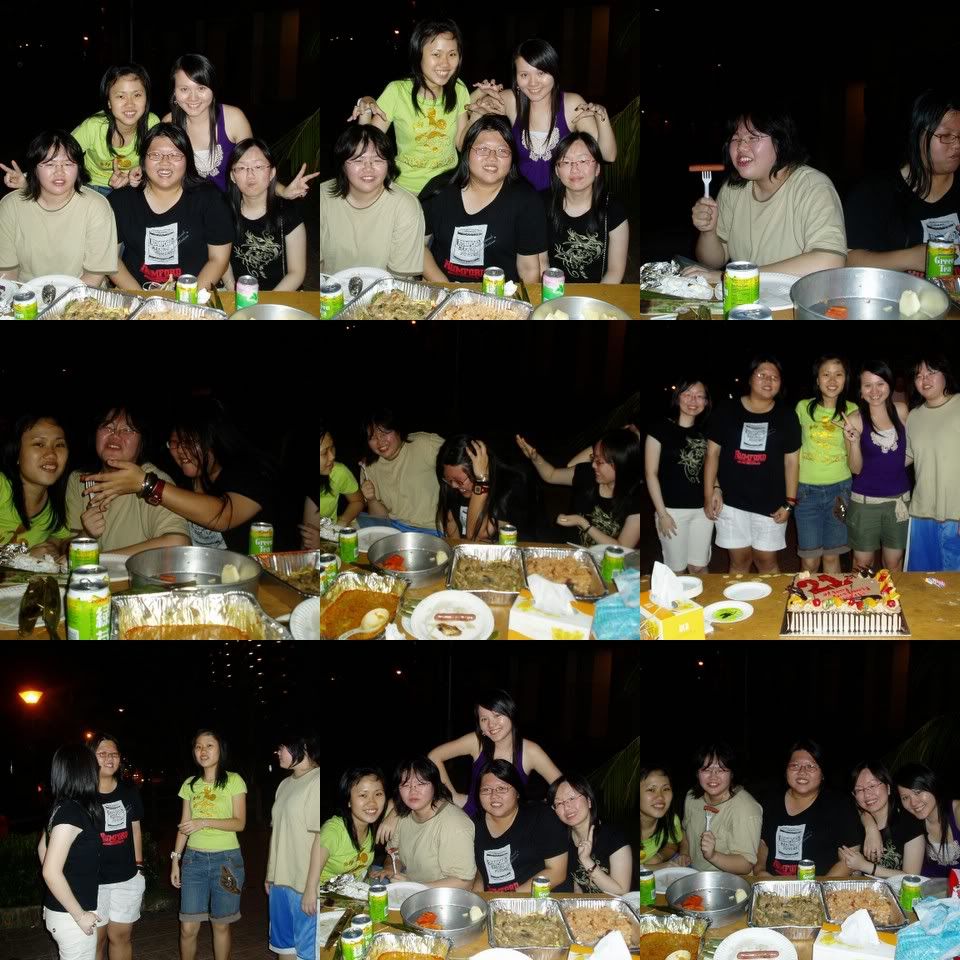 27Aug.. went to Botanic Garden first.. saw so mani Dogs.. so cute n so mani children.. saw some realli realli veri cute one.. we were there cox there musical.. the only music i could recognise was "I waNna hoLd yoUR HanD" & "Stand Up fOr spOre" but the whole thing was wonderfuL..then walk ard taking pIcture n later headed to my Frenz party again.. n lateR went hoMe..

ThE BeaUtIfUL ScEnes @ BoTanIC GarDen....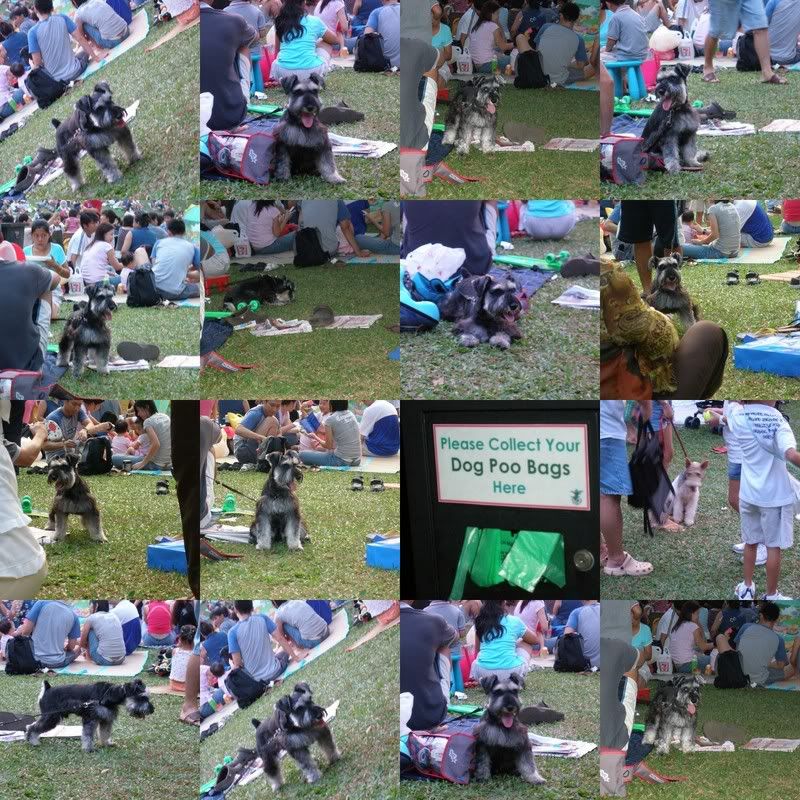 ThE CuTe DogGy wHu sEat InFronT of Me~~


28,29Aug stay at HomE... WisHed DenISe happI 21sT BiRThaY!!!


30AuG i had met uP wif ChuFeng to see My sUpeR ex-GirlFriend.... was a funni mOvie.. todae was kinda sad cox i lost my job cox of soMe stupid Clauses.. Lucki cf asked me out.. if nt i realli felt like crying..


31AuG was de last day of aug.. went causeway with mumMy.. it was pack wif student loi.. aiyoyo.. then went to ate MOs burger..then walked ard.. went pasa malam to buy de keropok.. it's Nice!!! then went ah ma hse as Dajie wanted to bring cheese cake over..


1SePt was suppose to be my first working but something haPpen.. And becox of tt i'M JoBlEss!!! and had to look for New joB!! I was Kinda sad la.. Haiz!! but nO choice.. next wEek had to go Look le.. so met up wif Shan as she wan go ang KboX.. so met at JE n went inside sang till 630PM.. then we went Jurong Point as Shan wanted to transfer something and JE there no place.. so we went makan first.. Food cOurt no space so we went to Billy Bomber as it look deLicioUs... as our wallet didnt had much money.. we went to ATM.. after tt went back to Billy.. but this time the queue was long.. so we went back to Food court.. n we saw 2gals was finishing.. onli left 1 Guo tie.. n juz now when we first time came they was already there.. n they just keep chatting there whereas so mani ppl were waiting for seats... then lucki another couple get up and we had de seats.. after 10min den tt 2gals stand up.. they cannot think de loi.. so mani ppl waiting n they sit there chatiing.. Gosh!! then we went to a place to seat to transfer thing.. then we chatted n Shan Decided to go my hse.. then went NTUC buy thing n headed to take bus.. On the way hoMe.. a guy almost fall down juz in front of me.. then i was scared by him n i some sort of scream.. n Shan & I keep laughing.. we'Re nt Laughng at de guy but to my screamiing... think ppl think we were crazy.. after tt went to take bus.. reached home at juz keep online...


2Sept!!! todae i'M Going to Wu Bai n Zhang zHen Yue conCert.. im waiting for SooO LOng.. Morning i went to JE again to accompany ah jia to lib.. but she still couldnt find de book she want.. then went to cWP to find again.. still no.. so we decided to go home as it 5plUs le.. my jiu jiu going to fetch us at 630.. So at 630.. JIu Jiu came and we headed to our DestinaTion.. THe MAX PAvIllIon!!! when we reache there.. it was like so many cars.. n we had to park so Far!!! so we hd to walked a distance b4 we reached there.. by the time we reached.. it's Was mouNtain PeoPle mOuntaiN sea loi.. get our tix from xiao yi n we headed in.. mum brought WuBai cd n had de Cd..after tt we went to our Seat.. my 2 sis n I seat at de $148 seat.. it so near loi.. then at ard 8Plus.. the ppl say the concet now begin.. n zhang zheng yue came out.. he sang a few farmililar song like Ai de chu ti Yan, feng shou bah etc then MC HotdoG came.. everyone was so high when he sing wo aI Tai Mei.. then Zhang Zhen Yue sang again.. den suddenli some ppl give my jie light stick cox he say je alot n we juz shout for wu BAi when he came out can le.. then we continue with JI you by zhang zhen yue n i called Shan as she want to lIsten.. after tt wu Bai came out.. we all stand up.. shouting for wubai!!! he was so coOl loi.. he came out wif da Mao first.. seating there singing romantic songss.. then juz keep singing all the famous song.. the whole hall was so High.. as the first 3 rows i think is those VIP so they keep sitting.. then wu bai say: the next song u all (those VIP) can sing cox he a hokkien song.. so de Band started n wubai let them sing but not so loud so wuBai stop his Band.. he say cannot cannot.. then he teach how to sing n say maybe we need to do this 5times.. so after 3 trials.. Wubai finalli continue after we all sing... it was so funni.. then he n de band also use the thing they use for last time for concert again.. something tt they tie on head l;ike a tv.. (i'll sHow de Picture) and the show end we the 3 singer singing together.. Overall i think it juz Damn GOoD.. we all stand n sHout till de enD of the coNcert.. when we went home.. our voice was like no sound.. keke.. But we enjoY iT!! iF they Came again.. i Sure will Go AgAIn....TWO THUMB UP!!!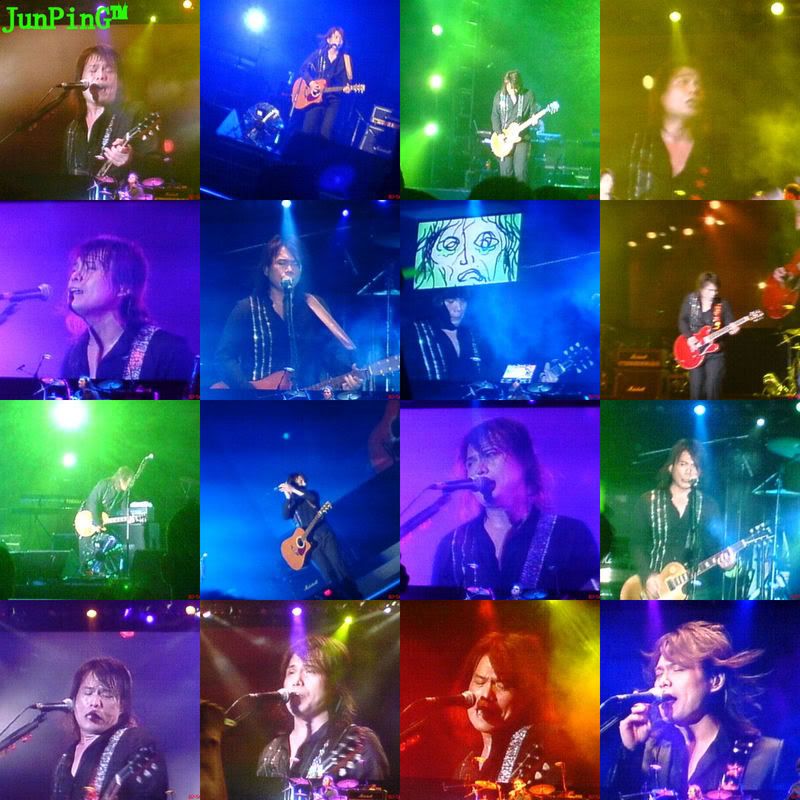 ThE KinG - Wu BaI~~ He RoX 0_0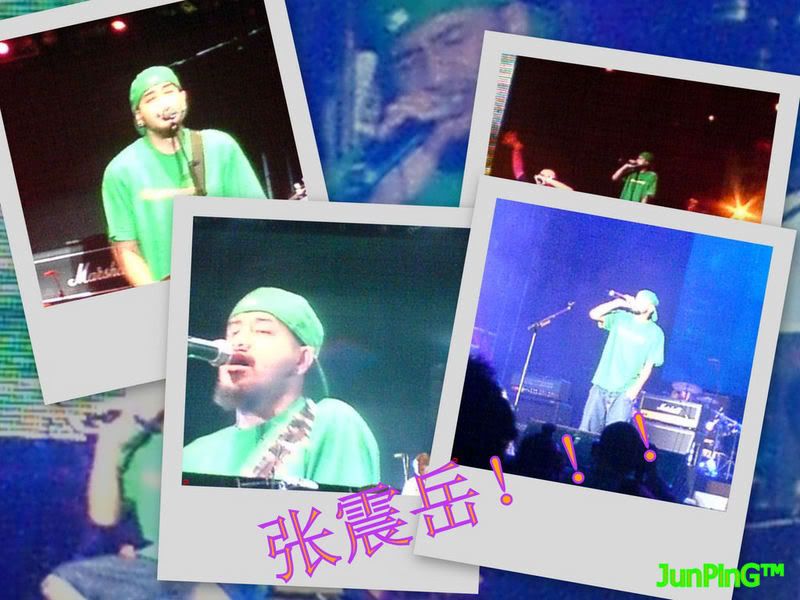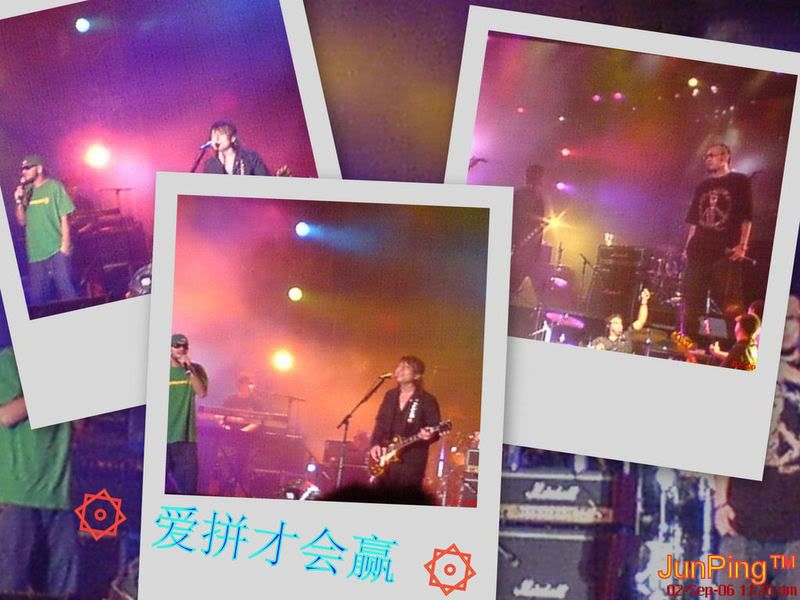 ThE FinaLE !!!!


3Sept.. i slpt till 2Pm.. n mum wok me up as papa wanted to go buy hp cox he had a Voucher.. When i woke up, i realise my ear gt de yellow thing again.. but had to wait till 9 Sept den i will see de dOc again.. so see how bah.. then went out wif my Parent n da jie.. take queue numBer for buying hp.. had to wait ard 1hR siah.. so went walk ard.. then after 45min went back n it almost our turn.. n Pa bought N73.. it sO nice lOi.. then i play wif it till we reach home n teaches pa how to use.. then went to Wai Po hse...