13Aug.. went cwp again as Denise & i wanted to buy bread cox we didnt want to eat de food at de comPany and we hope can finished the work during our lunch time.. after that we went pasa malam to shop around.. I bought a Mickey notepad & a set of Mickey magnets.. sO KAWAII!!! then saw Nana wif Royston.. juz say hi n bye!! hee.. then went home after tt
14Aug.. trying to finish all the work asap.. but couldnt which mean had to come back tml..

15Aug is the last dae in Macc Graw Hill as we finished our job.. had to thank Denise for helping me if not i think i had to come back alone... Bidding goodbye to them in the last min as I was trying to do my work in perfect.. then board de bus n I couldnt get to slept as tml no need to work le.. then went to walk ard CCK den went home.. see tv till late night again..
16Aug met up wif shan, cf, Denise & Xf cox shan n cf wan find job whereas denise & me went to hand up our time sheets..then jane told me tt a job which is in amk for me.. at first was in a delimma whether wanna try then decided to try since onli interview.. then went to ate ahjishan wif shan n cf.. then bid gdbyEs to shan.. went to rp wif cf as she getting her cert.. then after that went to Raffles medical as cf was having a bit flu..then we had nothing to do n we went to cathay to see is there any show for us to see.. n we decided to see American Haunting.. to me this show was sOooOOoo coNfuse.. but it'S scary.. those whu had see can please expLain to ME???
17Aug went to see Doc Seow as my ear still block and there seem to have yellowish n blackish thing inside.. Mum asked me better go see.. so mum accompany to de clinic.. the doc suddenly put a cloth on my shoulder then say wan to do sumthing.. then i was kinda scare that i didnt turn n see wat happening behind.. then de doc say she going to wash my ear.. then he put sumthing in my ear.. then suddenly like waterfall had just been released into my Ear.. then doc do it again.. after tt doc could see my ear red red and say its still infected.. so he gave me antibiotic to eat & say monday go back see him.. while waiting for de medicine.. i ask mum how de doc washed my ear.. she say use a veri veri big springe filled wif water n push all the water into my ear.. first time onli 2 thing cum out.. yellow de.. then 2nd time alot of yellowish cum blackish thing cum out.. tolo bad i nva saw it.. after taking medicine went to eat lunch with Papa.. had mix vege with rice..then after tt went to ntuc wif Denise to buy sOme stuff for tmL steamBoat.. theN went Party WoRld.... during nite time, i felt my ear was kinda pain le.. so i went to slp earli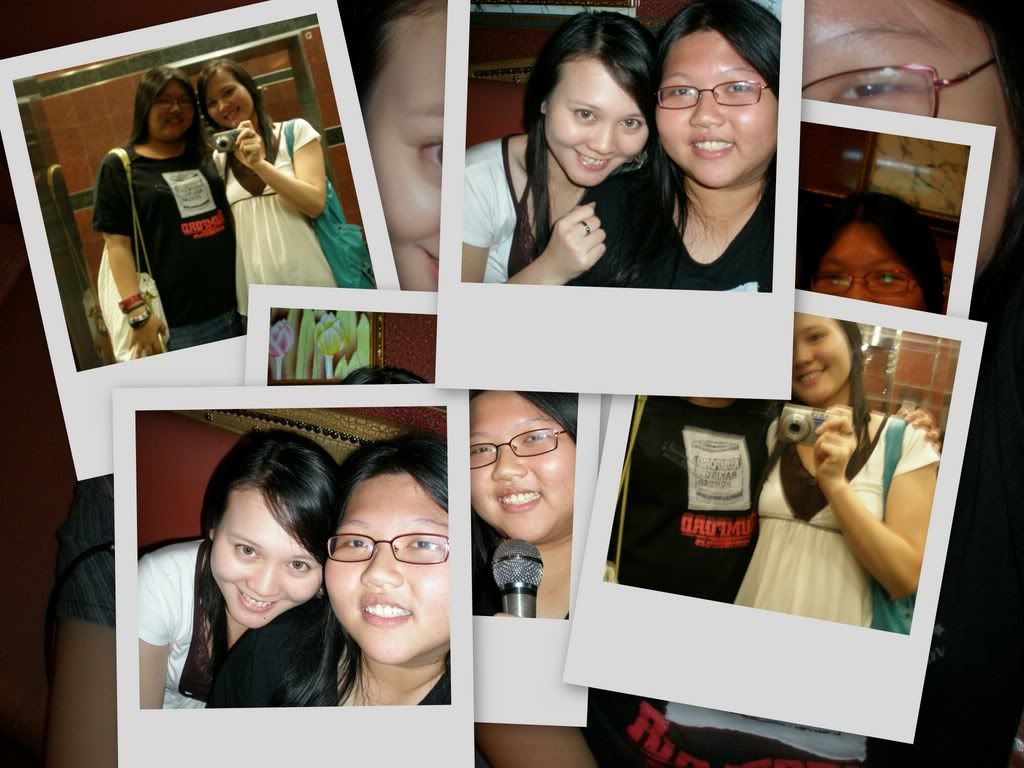 WiF mY deaResT DenISe @ PartyWorlD... Had a GreaT TimE~~
18Aug was a happi dae cum painful Day.. todae coWcifY are cuming to my hse for steamBoat.. prepared all de stuff like cleaning de house, wash, cut all the food and moving all the plant cox we will be having steamboat cum bbq outside.. while preparing all those stuff, the pain in my ear was unbearable so i went to eat de pain killer.. lucki after a while the pain was stopped.. so continue to do my studd.. by 7 plus all of them reached n we started to bring all food out n strated cooking.. in the progress it was fun.. after a while the pain came back again n i had onli de last pain killer.. but i couldnt stand it so i ate the last one.. so we continue the fun in my room.. playing uNO.. after that had a lot of photo taking.. as xj tml still had to work so we sent her home.. after which we went to Denise hse as she wan to get sumthing.. then proceed to wanchin hse as she wanted to bath.. when we were moving back to my hse for another madNess moMent.. we went to Mac to had a drink.. then went 7-11 cox i had found my long lodt lychee sweet.. the cashier some sort look like Elvin Ng.. HandsomE ohh.. keke.. then when we reached my house.. chin went to sleep while we seaching for vcd.. then when we wanted to play.. i dunno why it cant be played so i let denise n cf see de 183 variety show.. as for me i went to rest as my ear began to pain again N worst is i dun have any more pain killer & i felt like vomitting.. ard 5plus going to 6, they wake wanchin up as cf can take de first train home le.. So after saying gdbye.. i went back to slept...

LooK LikE dE ThOuSanD HanDs ShOW Hor.. HahA!!!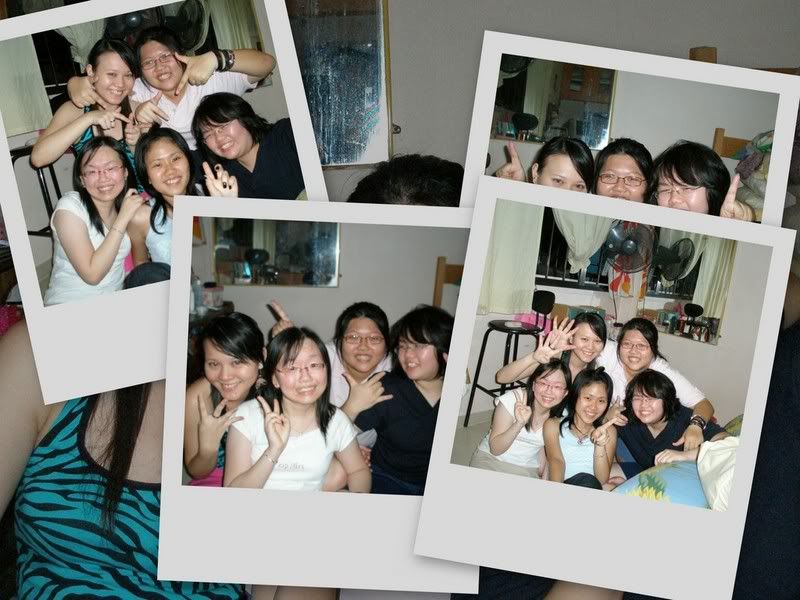 1, 2, 3, 4, 5... CowCifY!!!!!
19Aung, i cant tahan anymore so mum went to clinic with me again.. doc give me pain killer n ask me monday remember go see him.. den i went home n ate de pain killer but still pain.. rest a while n went sheng xiong wif mummy as wai po they all cuming to eat steamboat again..after buying stuff n bathing i went to rest.. n slept till 7plus.. after that went to makan.. then went to rest...
20Aug went to KKHospItal as todae Jonathan was having his birthday.. as he still need to be separated from us, we sing birthday song outside de dOor when his dad n frenz reached.. after that xiao yi brought us to Goodwood Park Hotel to eat durian buffet.. the durian mouse was damn nice.. but i mostly eat de chicking wing as the thing there are quite limited.. then we went to walk around.. brought a mickey moUse hp Strap.. then xiao yi brought a mariO soft toy for jonathan.. then went to Border.. wanted to buy some book but lazy to look... then xiao yi brought another book for jonathan.. so we headed to KK Hospital again.. after tt went HomE...
21Aug & 22Aug i thiNk i stay At hOME to rot.. Hee HEe!!!
23Aug, i woke up in then morning as i accompany Denise to interview.. along de way i keep dun feel like going my interview later.. dunno why i felt like i wun get de job.. but decided to try since im oUt... Denise was late a bit as we waited de Taxi so long loi.. after tt we went back to amk Station.. as it was still earli so we went to buy Mr. Bean as i need to eat my medicine.. then we headed to my interview place.. same procedure.. fill up form n wait for the person.. he didnt really ask me any question as i think he didnt want to employ me.. so after tt i bid gdbyes to Denise as im going to orchard to meet Shan.. then we went makan. den ard 3plus met up Denise n xf again as she & Shan need to go Recruit express.. then after tt we went watched movie at Cine - Snake on pLane.. kinda er xin.. all de snake.. look scary!!! I HATE SNAKE!!! den went home after tt
24Aug went out wif shan as she was going interview.. met up at redhill den we hire taxi to go to tt pLace.. after tt we went to Jurong east as we wanted to sing.. Sing from 2 to 7Pm den went tiong bahru for dinner..after that met up wif jia and go home together..n 1 gooD News.. I got a joB le.. Felt sO lUckI!!!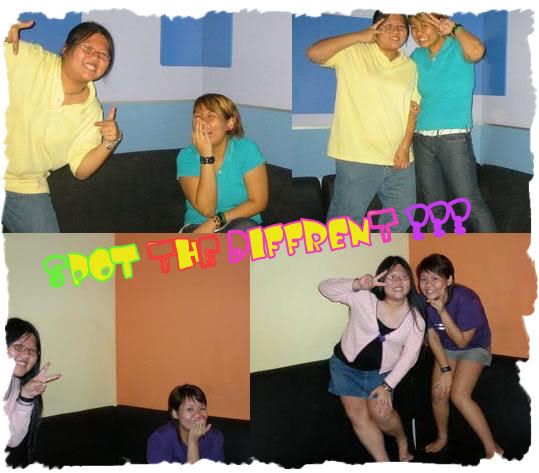 25Aug stay at home..
26Aug went to Mount Elizabeth for check up for my ear.. as i was late, i Had to wait a while b4 Dr Goh can see me.. after ard 15min.. we went in. then Doc again used the long long thing to take picture inside my ear.. show me the white white thing is de hole but is recovering.. then next he use de another equipment to vacumn my ear.. then he say 2weeks then go back see him again.. then went to Paragon.. walk ard n i BUy a Jacket n i successfully ask mum buY a new toP too.. then met up wif Da Jie and we went to ate Spagetti.. feel kinda angry cox of their attitude.. i Order sumthing then went my food came i was confuse whether it mine cox i order spagetti but it came spagetti roll wif chicken inside.. so we ask de waiter to double with us and he say yes.. so i ate it.. suddenly one of de waiter came n bring us another plate of spagetti.. but we didnt order anymore.. so actually my food wasnt de one im eating.. and other waiter all keep looking.. dunno toking abt wat.. Den when we finished n they ask for bill, my sis double check if they help us change our item on de receipt.. then de waiter dunno so he ask his manager cum.. finalli we are able to pay.. n they didnt say sorry even once.. think we wun go agaIn.. then went wisma walked ard and said bye to mum n sis as i'M meeting jia n feng to buy Denise Present as tonite she celebrating.. then saw a adidas bag quite nice so we bought it.. after tt went to far east to walk ard.. ard 7 plus met up wif chin at civic n we went ntuc buy water bomb.. n finalli headed to DEnise bbQ place.. then we went to makan.. DeniSe kept giving us lot of food so that we cant sabo her... n indeed we kinda fail la cox de water bomb cant be filled..so we had to use pail.. de worst thing is Denise also have.. de result of the battle was we all are wet. But luckilly the wettest is de Birthdae Gal.. Hero was cf cox she was de one whu made Denise so Wet..Den we pack up everything n prepared to go home... then Denise went back wif us.. cHin drove me to my hse first to take clothe as im going ah ms hse.. den next was cf hse.. after tt went to fetch xf as she going to Denise hse.. tc n cheng tat was there too.. we had a bumpy ride.. all oUr Butt waS PaiN de lOi.. "Nice" Job CHin!!! then next was jia den me.. saying gdbyes, i went up to my ah ma hse.. the door was lock n lucki my hp still have a bit of battery.. so i called da jie n lucki she was able to wake up if nt i think i gt to take taxi home.. den went to bath n chatted..