FiSh FoOd FoR HUMAn??,♥
Today met up with DenisE, Chin & FenG to watch The Reaping

It was a story about a former Christian missionary, who lost her faith after her family was tragically killed, has since become a world renowned expert in disproving religious phenomena. But, when she investigates a small Louisiana town that is suffering from what appear to be the Biblical plagues, she realizes that science cannot explain what is happening, and she must regain her faith to combat the dark forces threatening the community.

Overall: Found the movie quite interesting anD some of the scene do make us jumP!!! But I find the flash back are so fast that I didn't get it.. Maybe I'M slOw.. haha!!! Wan to kNow whether dE evIl or the GooDs wIN?? Go watCh iT. (3.4 sTAr/5)

Before I end this entry, I think I should tell you all something.. I personally find it hilarious!! After buying the tickets, Feng & I went to NTUC to buy fish food for my fish. (I knOw many people might think NTUC where gt sell, but it does!!) After walking around, I proceed to the counter. Then de cashier aunty talked to me. She speak very soft so I just nodded my head. Then later she asked me this nice meh?? You eat it with de porridge?? Then I wanted to laugh but I hold it and told de aunty it was for fish.. Then she smile smile and say so expensice (It cost me $6.60) Then I say Yah loi and walked off. After that, i told Feng and we laugh kinda loud.. WOnder de aunty heard us.. NOt laughing at the aunty but when this kind of thing happened, sure will Laugh ritE?? The Aunty just cuTE la.. hee!!!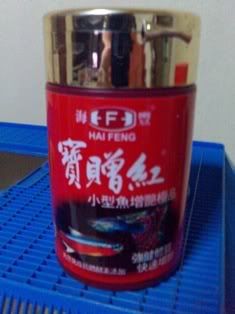 This Is tHE FoOd I boUght!! LOoK Like HUmaN FOod??
Labels: Food