DOGgY I LoVe You!!!,♥
Have Been Busy for the past few days as Shan & I decide to do soMe D.I.Y stuff and sell it online.. I think it a trend now to shop online.. So hoPe our will have good result.
So, we had been searching for tools, material and ideas!!! Had been running to MArina Square, ChinaTown, Arab Street, Plaza Singapura etc.. I will elaborate more about 26April as there were interesting photo..
26April.. went to Vivo as we wanted to go Daiso to search for tool box... Searching for a while, we didn't manage to find what we want so we bought one first to hold the material. After that we went for lunch at Food Republic. Shan intro a dish to me. It called Lei Cha (translate to English is Thunder Tea). Can see in the picture got one bowl of green thing.. that de importnat part of de dish, yet we didn't dare to drink.. we just ate de rice mic with lot of vege!! YummY.. u all can try!!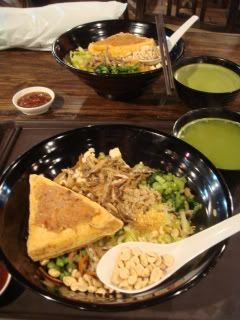 Filling our hungry stomach, Shan went to made "the Islander" card. When you had the card, you get unlimited access to Sentosa's 365 days a year and exclusive members-only privileges across their island-wide attractions, shopping and dining outlets. As Shan like to go there to sun-tan, so she decided to made one. The progress was quite fast, around 5min and you will get your card..
After that, we saw a pet shop.. It so big.. And there so mani dogs, rabbit & hamster inside.. And I had my eye on de 3month old Golden Retriever.. He look so sad.. How I wish i can bring it home.. Anyone buy for me?? keke And there are many other small puppies.. Kawaii daOOoo!! If dun believe, see the picture below!!!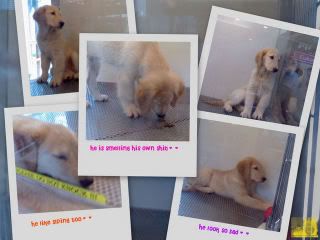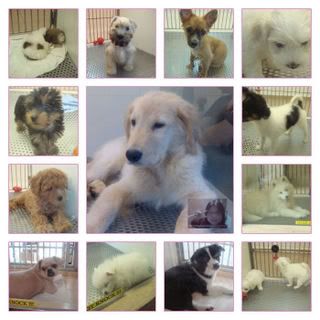 Taking quite a few picture, I walked off unwilling and continue to shop. We went to Adidas shop and I saw a Pink+White jacket and fall in love with it!! But SHan didn't get what she want. Therefore, I also didn't buy.
Then we proceed to Cityhall, went to Adidas shop in Citylink. And Shan saw one white one, so she went to try, she like it & decided to buy. So, I decided to get mine too if there a new piece, but they didn't have so they suggested to check at other outlet. After some checking on their system, they told me Wheelock have, so I reserved one. While checking, Shan walked around and saw another while one and she say actually she want de is this. So she try but it a bit squeezy so ask for the size but it been reserved by other but the store ppl let her try. If can she check other outlet had mah. And the size fit. So they checked. The answer was: have but also been reserved.. that was so unlucky siah..
Not giving up, we went to Raffles City shopping centre to check. But still don't have.. So now our brain is thinking which place still had Adidas.. We list out a few.. So we decided to head to Heeren. B4 that, Centrepoint also had one. So went to check but the shop is gone.. Shan is really sad but we still went to Heeren to check.
Reaching de store, we saw de jacket Shan want. But de question is : Do they have de size??
So we asked and the lady say she go check.. We both praying.. aND.......... we saw the lady walk out with a brand new jacket.. we laugh in joy!!! So shan ask me want to buy mine as the shop also have but I told her i already reserve but she just ask.. And de lady also bring out the new piece. So in the end, we MANAGE to get our jacket!! And to out morale of the story: ORchard is still out FAVOURITE shopping place!!!
Then we went to Taka to look for more things for our D.I.Y thing.. then at around 7plus, Shan went home & I met up with my sister and went home after buying what she need..
That all folks.. tata!!